We're here to help you with therapy for psychosomatic complaints, test anxiety, pain and sleep disorders.
We look forward to hearing from you.

Reasons for therapy:
psychosomatic complaints
stress & burn-out
physical & mental pain
anxiety
mourning
depression
trauma
aggression
addiction
Our range:
individual therapy
couples therapy
group therapy
Intensive seminars in Berlin and Munich
-> IMPROVING TEAM WORK
-> HELP WITH BULLYING AND JOB CHANGES
-> PROTECTION AND PREVENTION  (PROPHYLAXIS) IN CASE OF  BURN-OUT
-> SOLVING CHALLENGES THROUGH "LINEUPS"
   (FOR QUESTIONS AND DECISIONS IN FAMILY & WORK)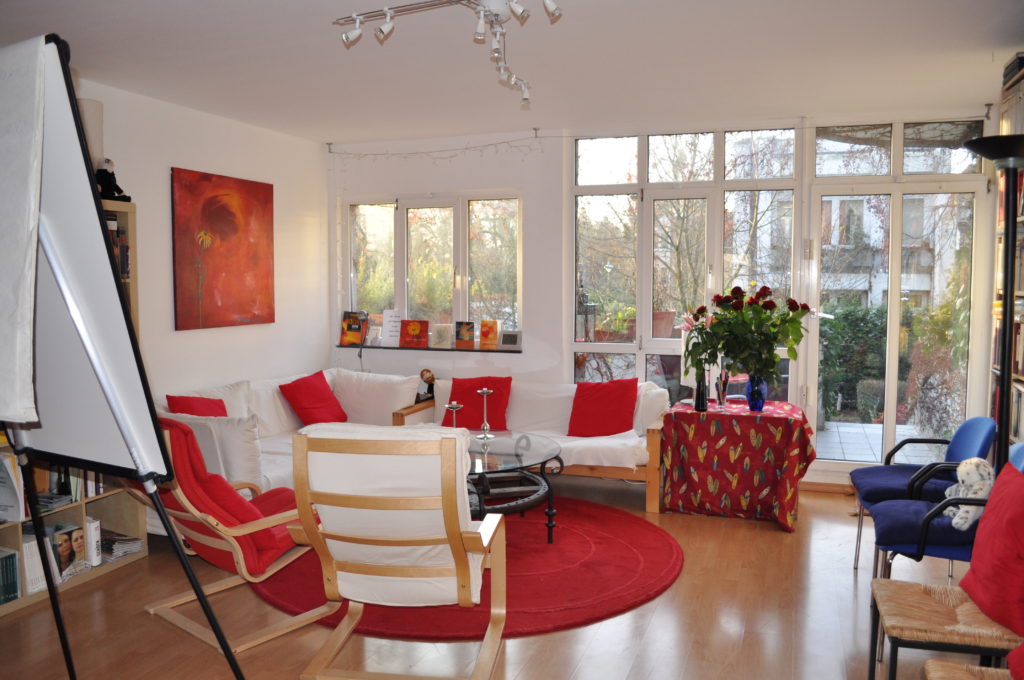 © by Susanne Rikus: Practice rooms
[qbutton size="big_large_full_width" icon_pack="font_awesome" fa_icon="" target="_blank" font_weight="" text="Make an appointment now!" link="https://alohana.de/en/contact/" color="#dd1111″ background_color="#ffffff" border_color="#000000″]
Target group:
Many of our clients are doctors, therapists and coaches. Our seminars in Sardinia are particularly suitable for an in-depth regeneration and a further education of the inner competencies in self-regulation and leadership.
Other private clients are often referred to us by doctors and osteopaths, for example, in cases of psychosomatic complaints, herniated discs and depression, etc.
Our therapy – methods at a glance 
1. Family lineups & other lineups for problems and solutions
2. Solution-, competence- and resource-oriented therapy
(MY TEACHERS STEVE DE SHAZER AND INSOO KIM BERG, THE WORLD-FAMOUS FOUNDERS OF THIS DIRECTION, HAVE ALSO WORKED WITH OUR CLIENTS OVER AND OVER AGAIN, EVEN IN GERMANY) 
3. Systemic  Couple Therapy & Family Therapy
4. Hypno-Systemic Psychotherapy / Clinical Hypnosis
(DR. GUNTHER SCHMIDT, IN WHICH SUSANNE AND ARNDT HAVE OUR TRAINING)  WWW.MEIHEI.DE
5. Hypnotherapy /  
Hypnosis
6. EGO-STATE Therapy: "who am I and if so how many?" – work with our inner TEAM
(ACCORDING TO DR. WOLTEMADE HARTMAN, MILTON ERICKSON INSTITUTE IN SOUTH AFRICA AND KREFELD, FROM WHICH SUSANNE HAS BEEN TRAINED SINCE 2007 AND ARNDT SINCE 2005)  WWW.WOLTEMADEHARTMAN.COM
7. Body Psychotherapeutic Methods
8. Art, Dance and Music Therapy
9. Psychoanalysis  (after Jacques Lacan, Paris)
Our therapy – methods in detail
Hypnosis:
Hypnosis is an efficient way to get answers to questions that are in our unconscious.
Sleep disorders, stress, burnout, as well as aggression and addictions can help hypnosis to regulate itself quickly and to bring about a change in one's life.
In addition to working with trance and meditation for self-regulation, hypnosis is a means to regulate the pain and psychosomatic discomfort itself.
The psyche can express itself with strong stress over the body and produces again and again psychosomatic complaints, if the cause in the program is recognized and carefully drawn consequences, the pain can disappear.
These sessions can be done in our practice in Berlin or in other places: eg in Sardinia or Hawaii!
Skype sessions are also possible if you can not come to Berlin.
At the Milton Erickson Institute in Heidelberg ( www.meihei.de ) my partner Arndt Himmelreich and I took part in the continuing education curriculum for "Clinical Hypnosis" at Dr. med. Gunther Schmidt part. And in addition to training in hypnotherapy with Brian Alman, Stephen Gilligan, Jeff Zeig … (All four have themselves learned directly from the famous founder of modern hypnotherapy Milton H. Erickson.)
Ego state therapy:
Ego State Therapy is a wonderful supplement to hypnosis. "Ego States" are our different parts that work consciously and unconsciously in each of us. If we feel ambivalent or even helpless, if our lives are not going to go so well that we feel really happy, Ego State Therapy can be a wonderful way to recognize and strengthen our inner team and turn all of our stakes into a beneficial force bring.
Trauma can be well regulated by this mindful therapy.
My partner Arndt Himmelreich and I have been learning this state of the art psychotherapy method since 2005. Woltemade Hartman ( www.woltemadehartman.com and www.MEISA.biz ).
Body Scan – a path to integral psychosomatics:
Experience the potential that is in you!
Experience consciously in resonance to your environment.
Learn methods through presence training to connect with old belief patterns to change it.
Can be learned via individual coaching, group seminars (also in Sardinia & Hawaii).
To see the body, to perceive energy fields, to recognize bonds, to feel the energy balance, to learn to read blockages and potentials, you can learn this.
This is the Body Scan method of the Alohana Institute, with which I have worked with hundreds of clients for years.
It helps just where it takes months or years to see the system of the family. And to see how we can change something by becoming aware of our unconscious programs.