Feedback for our therapies
"

A

uthentic

L

oving

O

riginal

H

ealing

A

ttentive

N

oticeable

A

rtistic"

"I met the Alohana Institute and Susanne Rikus 6 years ago.
Through her competent and experienced therapeutic support, she helped me to get to know myself more deeply and to accept and love my various parts in ego-state work. She freed me energetically from harmful influences and helped me to protect myself from it.

Through geomancy, I learned to connect with places, cleanse them, and get in touch with each other. Susanne trained my sensitivity on very different levels, made me aware of what I previously felt only as an indefinite feeling. She expanded my perception and showed me through work on the body, how deep old injuries were still anchored in me. Their presence, enriched by a variety of experiences, helped me to heal these injuries, to let them go and now to deal with myself much freer and more attentively. In her loving, attentive and competent supervision, she worked with me in a hypnotic and body-oriented way. It has always been a pleasure, an intense experience and a great pleasure to experience Susanne, to learn from her deep inner wisdom and to be inspired by her inner pictures. Thank you!"
Dr. Katrin Spiegler
Systemic family counselor,
trained as a certified child and adolescent psychotherapist (KJP)
A thank you for a precious treasure
"Dear Arndt, dear Susanne, dear Katrin,
this picture speaks without many words for my feeling … for my way … with me … with you … to myself.
I am happy if it stays with you. So a piece of mine stays here with you. A thank you for a precious treasure that you have given me on my way, which I have forever in my heart. Thank you"
Klaudija (June 2015)
Please click on the picture to enlarge and read.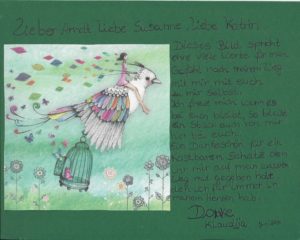 Being able to make peaceful contact with my inner child …  
It makes me anticipate when I think about what I want to turn everything upside down …
"Dear Susanne! It was very nice to talk. You have such a calm and balanced aura that makes you feel good.
I have become more aware of how important it is to build up an inner strength and strength that will allow me to better understand everything externally.
It is very relieved to know how to peacefully connect with my inner child, without falling into grief and pain.
I can now concentrate more clearly on my wishes / dreams. It makes me anticipate when I think about what I want to turn everything upside down. Today I mucked out 4 moving boxes with old ballast …
So I still feel like starting, slowly, in small steps …
Best regards and thank you! "
Alina
 

Body and soul in balance
"Through our work, I have learned that I can no longer think of others' problems and look at them with a healthy distance. Also more on me, my wishes and concerns as well as to pay attention to limits and thus come through our work with me and my body in balance."
Holger W.
Relief from anxiety and pain
"At the beginning of the therapy I was tormented by a strong, indefinable fear. Through the sensitive discussions and especially through the deep trance experience, the anxiety feelings were reduced after a few sessions, until they were completely gone. The joy of life regained thereby is for me one of the most valuable experiences. During the trances performed during the sessions, it was also possible to treat my very strong postoperative tension-head pain. The pain resolved within a short time. Because of this deeply immersive experience, after years, now it is possible for me to have a permanently painless and relaxed time. "
Peter K.
The topic to the point
"Susanne's special way as a therapist makes it easy for him to come into contact with his own personality parts.
From this wealth of experience she juggles lovingly, mindfully and competently and brings the topic to the point and (gives) the chance to change it, or to take a different perspective."
Christiane, Berlin
But I know it's special. As you said, "We are more than our feelings," so I can tell you, "You are more than a therapist, you are a miracle."
Your words do not just go in your ear, they get under your skin and they go to your heart. You touch without your hands being needed. Your absolutely calm, empathic and understanding being is able to identify and name problems, fears, concerns and desires. Within a short time you teach me so much without lecturing me. You show views and thought patterns without imposing them. You release blockages. You make it that I myself can give space to things that burden me, and give space to things that I want. So that I manage to see myself on the whole, in the whole. That I found you as a therapist is lucky for me. You can create confidence where there is none, you can give it the strength to light a light in the dark. I do not know how you do that. But I know it's special. As you said, "We are more than our feelings," so I can tell you, "You are more than a therapist, you are a miracle."   Christina D., Munich
Feedback for our coaching
Your work has a strong power of manifestation, this has created an emotional, deep foundation in me.
Working with you means arriving. Arriving at his destination.
"For anyone who is open and willing to work on themselves … You are very empathic and could find out my needs, that is your strength …
Your work has a strong power of manifestation, this has created an emotional, deep foundation in me. Working with you means arriving. Arriving at his destination. Building blocks came together and I was able to integrate them. My previous life and today's no longer fit together. Through the energy work and the merging of the building blocks (through) that I could integrate the building blocks, through the time, thinking, and through the energy I took up, I came up with putting the building blocks back together and making a building, a building that I am. That was an important step. "
Joachim Köhrich, entrepreneur & co-owner of Heckmann Höfe Berlin
Feedback on our coaching 2009 in Sardinia
Extract from the video interview 2011 with Joachim Köhrich, successful entrepreneur & co-owner of the famous Heckmann Höfe in Berlin – Mitte – also on youtube: Sardinien Coaching
Susanne Rikus meets with her very own personality the nerve of the time
"Susanne Rikus meets the spirit of the time with her very own personality. She knows how to brilliantly reach the facets of the personality, which may be in short supply in all the hustle and bustle and the individual business situation. She listens, analyzes in a subtle way, tracks down roots and works together to develop goals, carefully examining results.
It combines spirit, natural conditions, physical well-being with a thoroughly pragmatic spirituality, from which you can immediately implement the positive progress of things in everyday life. Susanne Rikus has been with me for about 1 year and I do not want to miss this connection anymore. Thank you, Susanne. "
Petra R., Owner Project and Real Estate Management
Wow, that was pure power!
"Wow, that was pure power! Find the inner safe place. The warrior live. Healing of femininity. Attract the man who is good for her
Dream trip to the girl. Uplifting experience. Keep what I get. Anger as a miracle force. Sounds like a fairytale adventure. It was too!
Just as healing as magic. Susanne's laser-sharp intuition brings powerful integration. Together we have tracked down all the loose threads of partnership and prosperity and woven them into a magical rug. From "nice nun" I have stood out as a celebratory fire-woman like Phoenix from the ashes. Susanne is like a midwife helping with the new birth. "
Tanya of Zychlinsky
www.paintingprosperity.com/ Painting Prosperity – New Worlds Life –
2016 on the impact of a single Skype session with Susanne Rikus
Feedback for our workshops
Energy like after 3 weeks of vacation
"Hello you two. Thanks for the weekend, you can not believe how much energy I went with … I felt like I had just had 3 weeks vacation. Thank you."
Torsten (2017)
Feedback for our seminars
Liberation of creativity
"In Sardinia I was able to let blocked energies flow again. And out of this river my long-lost creativity has risen to the surface with a wonderfully powerful lightness. Dear Susanne, thank you very much for this energy work. "
Psychotherapist
(soon afterwards founded a successful training institute for psychotherapy)
Feedback for the Lomi Lomi massage
Alohana Body Work with you was something very special for me
"Alohana Body Work with you was something very special for me, which I experienced differently than with massage therapists, traditional Thai massages and Reiki treatments. My anticipation was enhanced by the wonderful warm atmosphere with quiet Hawaii music. Then, touches that I could perceive everywhere, which not only ran through my head warming from head to toes – while your hands lay still on my back – but which touched my heart, my soul. I became "very light" and cheerful, as if all the heaviness, experience, even for decades recurring pain in the shoulder joints were falling away. It was like a dream. This lightness lasted for several days. Your Alohana Body Work Massage is highly recommended. "
Many thanks,
IR
Hawaiian bodywork
"Dear Susanne,
Thanks for your gentle and powerful hands! I have not solved my problems yet, but I feel more than before.
Nice that it gives you and your skills. Let me embrace you!"
Maria, goldsmith