1.Seminar auf Sardinien
- Befreiung Deiner Kreativität mit Alohana bis 21.10.2020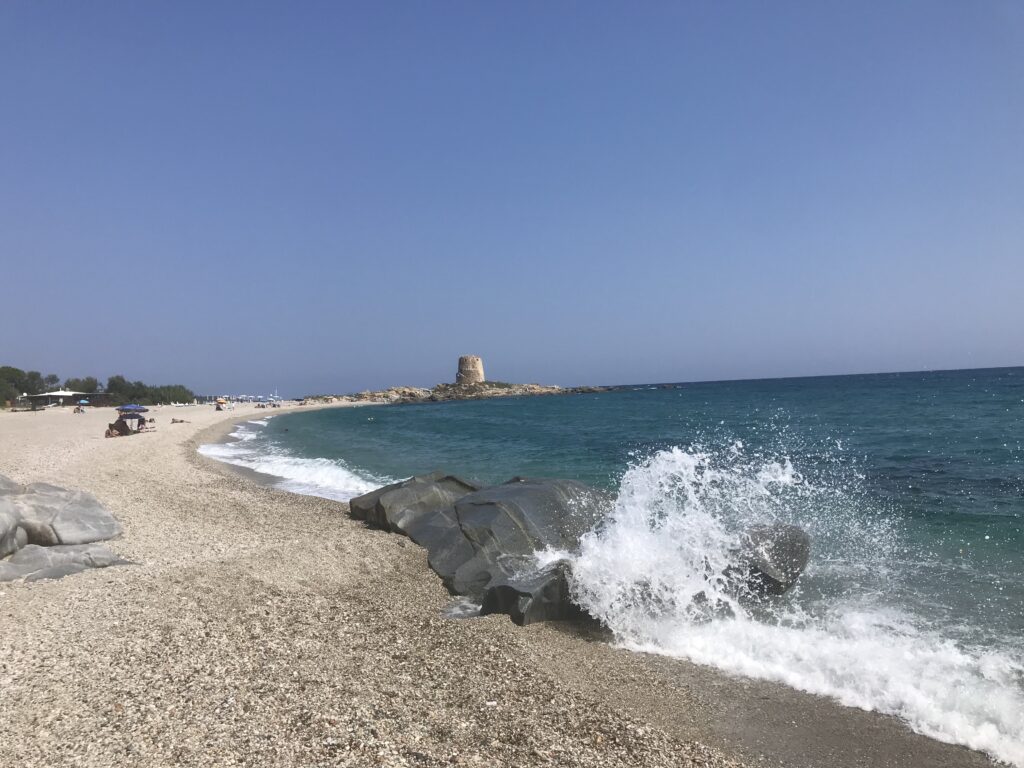 Liebe Freundinnen & Freunde des Alohana Instituts & Neu-Interessierte,
• wir bieten Euch für den Zeitraum vom 24. September bis 21. Oktober 2020 wieder Entdeckungs-Reisen zu EUREN (inneren) Schätzen & Kraft-Quellen & Kraftorten auf SARDINIEN an!
Möchtest Du Dich neu erfinden?
Endlich hemmende Glaubenssätze loslassen und Dich befreit ein kraftvolles selbstbestimmtes Leben erleben, Deine Passion leben ?
• Seit 2007 jedes Jahr (mindestens) 2x 1 Monat lang: für 1, 2 oder mehr fortlaufende Seminare à 4 (+1+1) Tage oder vielleicht auch mal nur für ein Wochenende… auf Sardinien (& Hawaii)…
Seminar – Befreiung der Kreativität
Vom Donnerstag 24. September (10 Uhr) bis Mittwoch 21. Oktober (16 Uhr) folgt der Kreativ-Workshop – und zwar an der SÜD-OST-Küste (ungefähr in der Höhe von ARBATAX) – dort gibt es viele wunderbare Traum-Orte (3.500 bis 6.000 Jahre alt), an einem haben wir aufgrund seiner so großen Schönheit & Kraft u.a. auch unsere Hochzeit gefeiert…
• An der SÜD-OST-Küste sind wir in der wildesten Region Sardiniens, die einer der "5 BLUE ZONES" ist, also einer der 5 gesündesten Zonen der Welt…
• Unsere Traum-Orte gehören nämlich zu einer wissenschaftlich erforschten Landschaft & Bevölkerung, die eine dieser 5 BLUE ZONES ist = die ältesten Menschen der Erde wohnen hier = über 100 Jahre alt und immer noch gesund!
• An der SÜD-OST-Küste gibt es einen ganz besonders schönen Natur- und Kultur-Platz – an dem wir an einem Pfingstmontag übrigens auch unsere Hochzeit gefeiert haben – mit einem 3.500 Jahre alten Turm aus der Nuraghen-Zeit…
• Nur die zeitgleiche mykenische und minoische Kultur – Knossos auf Kreta & Mykene – ist mit diesen Nuraghen-Plätzen vergleichbar…
• Nur auf Sardinien gibt es diese Türme, etwa 7.500 davon sind heute noch erhalten (bzw. bisher entdeckt worden)…
• FÜR ALLE SEMINARE:
• "Befreiung Deiner kreativen Kraft"
• "Manifestation von neuen Projekten in Liebe & Beruf"
• Medi(t)ation, Kraftorte, Meer, Tanz, Discovery Trips, Vision Quest, Grundlagen zur energetischen Arbeit, Coaching, Therapie, Ego-State ("wer bin ich – und wenn ja, wie viele?" – meine inneren Seiten als TEAM), SOMA/ SE (Somatic Experiencing)…
• Dies kann übrigens auch als ein Baustein für die "Alohana COACH Ausbildung" genommen und zertifiziert werden.
• Für Einzelne, Paare, Gruppen…
• Aber auch noch ganz andere für Euch/ Dich/ Sie maßgeschneiderte Fortbildungen sind möglich…
• Fortbildungen & Ausbildungen zum Coach… zur Mitarbeiter-/ Team-Führung… oder um sich einfach nur einmal selbst ein Coaching zu gönnen… and much much more…
• Coaching (beruflich/ privat), Therapie, Vorbeugen (Prophylaxe) von Burn-Out, Visions-Entwicklung, body-mind & spirit, Lomi-Lomi-Massage, Feng Shui…
• Viele haben darum auch die gesamten Kosten (auch Flug, Übernachtungen, Verpflegung, Fortbildung, Coaching…) zu 100% von der Steuer absetzen können…
• Easyjet fliegt übrigens idR für ca. 40 € auf die Insel…
• ENTDECKUNGS-REISEN zu verborgenen Orten auf dieser still-schüchternen Insel, die doch einmal früher ein Vulkan gewesen ist…
• Eine Ärztin, mit der wir Pfingsten vor 3 Jahren dort arbeiten durften, konnte daraufhin ihre HWS-OP, die direkt nach Pfingsten stattfinden sollte, absagen: denn die Lähmung vom Nacken bis zu den Fingerspitzen löste sich völlig auf…
• Bis heute hält diese Heilung unverändert an… ihr Neurologe & Chirurg in Berlin sprach von einem "Wunder"…
• Die "äußere" Heilung ist natürlich untrennbar mit der "inneren" verbunden und so kam sie in jeder Hinsicht als aufrechte "JAGUAR-FRAU" wieder zurück…
• In unserem 2007 gegründeten Alohana Institut kann sich altes Wissen der Naturvölker mit modernen wissenschaftlichen Beratungs-, Coaching- & Therapieformen verbinden – und für Euch nutzbar gemacht werden.
• Wissen, das eine Nachhaltigkeit für unsere Gesundheit im Umgang mit Seele, Körper und unserer Umwelt schafft.
• Wir sind dabei auch z.B. an Kraftorten, die "Stonehenge" ähneln, aber 2.000 Jahre älter sind…
• Und natürlich immer auch zugleich die ganze Zeit an der Meeresküste… das türkisfarbene, glasklare Meer wird stets mit der Karibik verglichen…
• "Kraft tanken und neue Wege gehen" (body – mind & spirit healing)
• Stellen Sie (Du/ Ihr) sich Ihr optimales Sardinien-Seminar zusammen und vereinbaren Sie mit uns gern Ihren individuellen Wunschtermin!
Wir freuen uns auf Euch/ Dich/ Sie!
Susanne Rikus-Himmelreich & Arndt Himmelreich
emotional self-regulation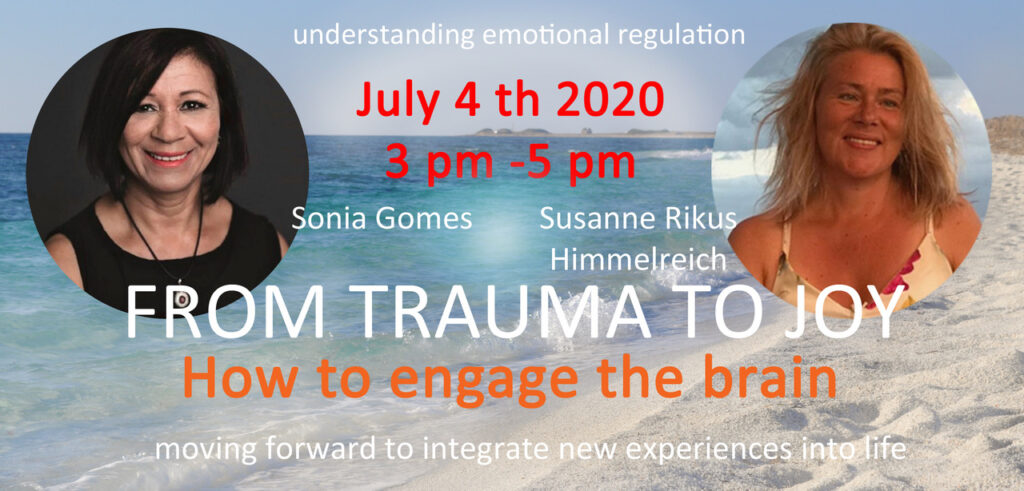 Dear friends and colleagues,
I am very happy to offer you an online workshop with Sonia Gomes, trauma expert, SE™ Professional Training Faculty of SETI – Somatic Experiencing® Trauma Institute.
4. July 2020 from 15 to 17 o'clock via Zoom
She was my instructor and did wonders in me because after my serious car accident, trauma was still stored in me.
Her competence in reading the body, having worked with Peter Levine and teaching Somatic Experiencing Body Psychotherapy worldwide makes it special when she gives you an introduction to how trauma is stored in the body and later in the second part I show you with singing and ocean drum trance journeys that can be very supportive to make you feel strongly vital.
Besides my art I work with clients in psychotherapy, including techniques from body psychotherapy and ego state therapy as well as the Ambivalence Coaching according to Gunther Schmidt.
The title of Trauma for Joy is more than a vague presumption it has often been proven in settings.
Take a look at the video or on my Alohana website…there is more about it, about the great things that trauma research can do, about what Sonia Gomes does and how I will enchant you into your competence to make the impossible possible.
The seminar is in English, but it will be translated into German.
I am happy about your participation…if you want to…
Cordially
Susanne Rikus
Click here for more information and also for easy online booking…
You can book the workshop with using the contact form and transfer the workshop fee on the account:
Susanne Rikus-Himmelreich
IBAN DE 66 100700240428769400
BIC (SWIFT) DEUT DE DBBER
Or you simplify use the link in the buttom, that you have your seat easy and you can pay via Paypal.
The workshop will be via Zoom.
Link on this link for reserving your seat, now.
After register and payment you get the link to the workshop. You need to have a zoom app or program downloaded to take part on the workshop.
Sônia Gomes, SE™ Professional Training Faculty of SETI  – Somatic Experiencing® Trauma Institute.
She has accumulated more than 35 years of work in the field of Clinical Psychology/Body Orientation and has a PhD in Clinical Psychology. She has additional degrees in Structural Rolfing® also Rolfing Movement Teaching and devotee student of Hubert Godard, Movement Analisys from French.
Sonia is an SE International Senior Faculty Member teaching the SE™ Professional Training in Brazil, Europe, the US, South Africa, and Asia. She has designed and currently teaches training programs that are complementary to the SE training.
This program involves understanding the functional dynamics of the Perceptive System which includes the haptic activity in order to identifying the body and emotional defenses in the traumatized people. Ultimately, she helps clients by using the SE™ base principles, to find an outlet by Touch and Movement to their blockages in the body, mind and brain.
Her alumni confirm the excellent mastery of SE and body therapies that Dr. Gomes teaches in demonstrations and personal sessions.
Dr. Gomes adopts a multidimensional system, an integrating approach in her teaching  and intuitive clinical practice. She is committed to SE therapy to relieve the suffering resulting from the trauma, and as a means to enhance personal development.


Workshop "Female Leadership"
Next appointment: schedule for 2020 comes soon 6:00 - 8:00 pm The workshop usually takes place once a month. Price: 49 €

Workshop "Feng Shui"
schedule for 2020 comes soon 6.00 - 7.30 pm Price: 49 each workshop

Sardinia - Seminar
Discovery trips to your (inner) treasures and places of power in Sardinia 25 th August to 24 th September 2020 (since 2007 - also on a daily basis and as a further educational training)

Hawaii - Seminar
Discovery trips to your (inner) treasures and powerhouses in Hawaii 2020 you choose your time (since 2007 - also on a daily basis and as a further educational training)

Coaching Training

Embodiment - Balance
We look forward to you!
Your Alohana Institute